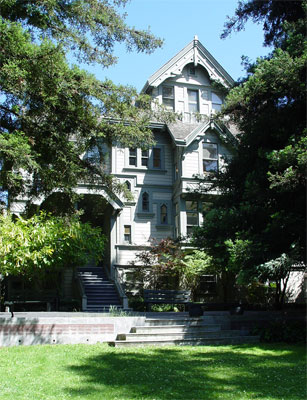 Tom's Alma Mater, California College of Art, today. (Formerly CCAC) in Oakland. Ever wonder what inspired Tom to turn his family's Grand Palms Hotel into Baeux Arts? When I heard he recieved his MFA and Teaching credentials here in the Bay Area, where I live, I went looking for anwsers.
Tom's Time In California
Oakland, Califiornia - Tom spent time in the San Francisco Bay Area between WWI and the Korean war, working on his masters in Fine Arts, on the GI Bill. After recieving his MFA he was called back for a short tour of duty in 1949, before moving back to St. Petersburg. I'm doing some work on old bars and coffee houses in SF so I'll be adding more to this page.
An old muisc Box in the corner of the First and Last Saloon at Jack London Square. Frequented by Jack London during his stay in the area, it's famous for having some of the most entertaining bartenders, and a sloped floor that is never leveled after earhquakes.