Daniel Wylie Kalais RIP 1946-1996
Danny's mother sang with early cowgirl trio on a radio show. From the age of three he sang harmony with his half-sisters, known as the Saylor Sisters. He was charismatic, handsome, had a beautiful voice, played great guitar, was a marvelous songwriter, and, he had a way of singing every song in such a way you'd swear he wrote it, even though you knew full well that he hadn't ("Long Tall Brown-Skinned Gal", "Why Don't We Get Drunk and Screw", "Moondance", "Brown-Eyed Girl").
We went to school with him from 7th grade until he (apparently) dropped out after 10th grade. He lived at old Beaux (with & without Cheryl) off and on, played there as a regular in 1960s and '70s when he was in town, and was married several years to Cheryl Dawn Chisholm (of "Chisholm Trail" family, former Miss Dallas).
"He was star material and had a standing offer from Columbia in the late '60s but no self-discipline to record anything. I have the lyrics of (but no tune for) his composition You Got to Keep Your Madness Magic -- which he just couldn't do. "
- Llyn French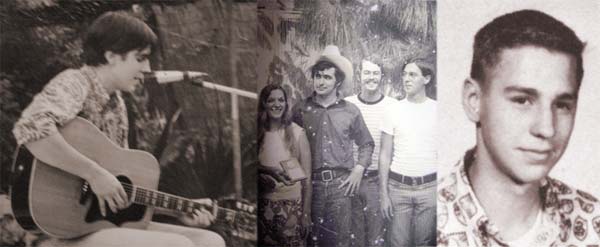 Playing in the garden at Beaux Arts, receiving a song-writing award, High School yearbook.
Llyn French
Madness Magic By Daniel Wylie Kalais
[Transcribed by LF in 1975 from a cheap cassette recorded the same year in Nancy Renier Horn's living room. Danny played this song in a very free-form blues style, impossible to copy even if you sort of knew the tune. ]
--Everybody's blue but some don't know it--
Brother Otis said
as he aimed his pistol at a stranger's head
N me, I was lookin for a window, an alley, or door
when I came to my senses sittin in a bar
wonderin why I couldn't feel more
I was sittin there listenin to an ex-soldier
talk about where he'd been
Said he was fightin for peace n freedom
but he would not do it again
That's when the secret police appeared
paranoia on their breath
Seems they came to claim a deserter
who would not worship death
Some of my friends are dead n gone
but the river rolls on n on n on
I motored jumbled endless highways
wonderin where the time and miles had gone
Then I got stuck in Mannequin City lookin for somethin to pawn
Finally found a traffic light n some gypsy girls in love with love
We talked of more than dreams
touched the starry sky above
Woke up in the country, sun was shinin bright
I looked back to the city n all I could see was night
So I stayed high down on the farm n mellowed for a spell
Then hitched a ride back to the big city t boogie n raise some hell
'Cause my soul feeds on the city, lives on the country too
N you might be my enemy or I might be a friend to you
N some of my friends are crazy people now
But the river keeps rollin on, doesn't matter why
Got to keep my madness magic
Got to do what I feel best
Give n take love n play my music
Learn what I can from everyone
Doesn't matter what you do
you got to keep your madness magic