What inspired me to write the book?
2003 DYI Convention
Notes from the Red Devil Lounge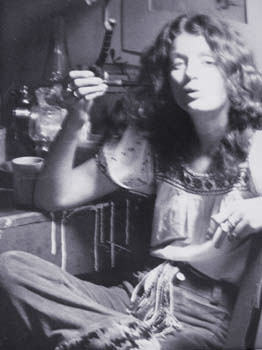 1971 SF - Project Artaud Studio 316
I was 17 years old, living in Tampa, Florida. There was a coffee house called Beaux Arts, right across the street from the Pinellas County Sheriff's Department, in the middle of no-where, just off a causeway. I can't remember how I discovered it, but once I did, it was my haunt until I graduated from high school.

Beaux Arts was an old-fashioned multi-story wood frame rooming house owned by one of the more colorful characters in town. Films were screened in the front room. You walked into a dark room filled with people sitting in dining room chairs that were set up in rows facing a small screen. The movies were mostly French art films from the twenties. Not the kind shown in local theatres in Florida.

Acoustic Folk and bluegrass were on the bill nightly in the back room with big screen windows. Rehearsals were outside in the Christmas tree-lit garden, with little paths separated into intimate seating areas. Performances were in a big screened-in room in the back, filled with comfy couches and chairs. For some reason, there was usually a cool breeze blowing through the room, so the lack of air-conditioning wasn't a problem. The thick marijuana smoke competed with the smell of coffee brewing on the porch. I never realized how unique it was at the time. My father sent me a news clipping about it burning down years ago.
Shadows of the Night
The heat
of the rising sun
Shatters the cold glassy stare
of the night's lonely shadows
Into bits of opaque crystal
as a new day dawns
the painted faces of false gaiety
are stripped from their countenances
As they prepare for
the shock of entering
the Realities of
day time

The circus
of common acts
Begins with the ringing of bells
and continues until the day dies
And it's characters disappear
into the shadoows of the night.
- Mari Eliza aka Mary Cox
from the HB Plant High School years
LA Reds
Violets my darling?
Pretty violets my dears?
The pretty orange and purples
clutching my throat
pulling me down into a
higher form of decadance.

Throw the champagne glass
into the air
shattering the ceiling
as the tiny fragments rain
Cutting upraised eyebrows
Blood for your vodka?
A little S&M with your salt and pepper?
- Mari Eliza