Malcolm Johnson, artist, photographer, collector and documentarian of Beaux Arts and the St. Petersburg Art Scene.
Malcolm's first time at Beaux Arts was in 1987 when the party was still going in the original Beaux Arts Hotel in Pinellas Park next to the Sherrif's station. Eric Bechus shot a film with Tom and Malcolm in the garden sipping beers and making plans. The link to that and others is below.
"Beaux Arts Restoration and Resurrection Film"
Not so much a first impression, but an impression that grows.
"When he made the garage into a theatre space, that was impressive. The electricity came from the house on extension chords. That's what got him shut down. He added a screen porch onto it. That was the first impression that stuck. That impressed me."
Tom viewed his properties as his legacy to be put to use for the good of Beaux Arts. To put in the sound system he sold a couple of them.
After the second fire around 1989, the shows were performed in the garden.
Tom was forced to leave the origianl Beaux Art because of the fire damage. For a while the shows were performed in Jenny's horse barn.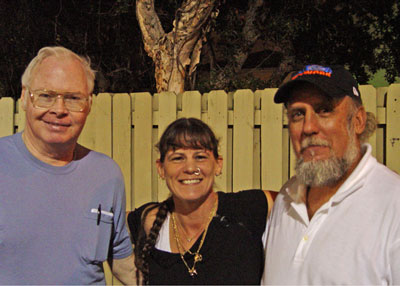 Photo of Malcolm, Jenny and friend at a late night dinner meeting 2009.
Malcolm is an avid art collector.